Our experience of dealing with sexual violations
eLearning Scripts Made (Clients & Vendors)
An interactive session to educate and empower all people coming in contact with children including teaching and non-teaching staff, parents, caregivers to understand Child Sexual Abuse, its indicators and provisions under the POCSO law. This module has been made in consultation with mental health professionals and lawyers practicing in this area.
20th May 2022
Protection of Children from Sexual Offenses (POCSO): Understanding from Legal & Psycho-Social Lens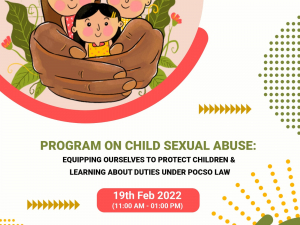 19th Feb 2022
Child Sexual Abuse: Equipping Ourselves to Protect Children & Learning about Duties under POCSO Law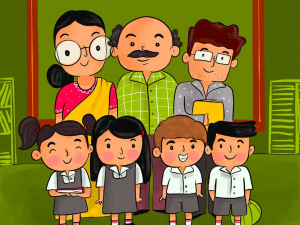 27th Oct 2020
Program on POCSO for Teachers of Mumbai Mobile Creche in Hindi
We believe that, child sexual abuse (CSA) is the social exploitation and victimization of a child by an adult, adolescent or another child. Compared to adults, children find it much more difficult to disclose abuse due to several reasons. An offender can be someone known to a child or total stranger. A perpetrator need not necessarily be an adult. Also, it's not always a male who is a sexual offender. Similarly, it's not always a girl child who is the victim. We view such matters extremely seriously as they not only lead to illegal acts but also result in long term trauma for the child continuing to their adult life as well. We support organizations & institutions in their efforts towards a harassment free environment We believe that creation of awareness on POCSO (Protection of Children from Sexual Offenses Act) and training of those involved in redressal mechanism is a must for a healthy and safe environment for Children.
Frequently Asked Questions
Looking for Scheduling a Demo or Tech Support?